Whether you have a pre-existing heart condition, a new problem, or a cardiac emergency, you don't need to drive far to receive the best possible care from top cardiac care specialists who have access to the latest treatments and technologies.
At Astria Health, our multidisciplinary team of cardiologists, vascular surgeons, cardiac care technologists and nursing staff collaborate to evaluate you and provide the most appropriate treatment for your condition. Having this level of expertise available locally makes it easier for you to care for your heart and for yourself. Astria Cardiac Care services and heart experts are available at convenient outpatient Astria Health Center multi-specialty locations throughout the Valley and at Astria Sunnyside Hospital, helping to ensure you have the cardiac care you need, close to home.
A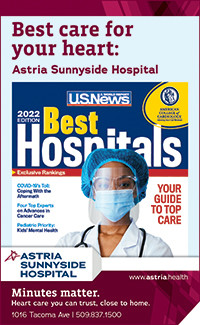 stria Sunnyside Hospital received national recognition by the American College of Cardiology (ACC) for its superior heart care in the 2022 U.S. News & World Report's "Best Hospitals" edition for its dedication to heart health. According to the ACC announcement, when hospitals receive this type of accreditation and seal of approval, it shows that heart patients and their loved ones can trust Astria Sunnyside Hospital to deliver the best inpatient care possible. For more information about this accreditation, please visit here.

Expert Cardiologists
All of our cardiologists are board-certified and educated at the top universities in the nation. They are experts in managing the stages of cardiac care, including diagnosing, offering surgical and nonsurgical treatment, implanting and managing cardiac technology devices, and providing ongoing care.
We value patient interaction and offer individualized care. When you come in for an appointment, you'll see your cardiologist in person and have a chance to ask questions and talk about your needs and concerns. This personal, individualized approach to care is important to each of our cardiologists.
Diagnosis and Imaging
The first step toward a healthy heart is to determine the type and extent of cardiovascular disease. Astria Health provides technologically advanced heart care, offering state-of-the-art diagnostic equipment and expertise. Our experienced clinical cardiologists use a wide range of sophisticated cardiac procedures to diagnose heart disease:
Nuclear medicine scans such as a myocardial perfusion. A myocardial perfusion scan utilizes a small dose of radioactive material to reveal the structure and blood flow within the heart.
Non-invasive studies imaging technologies including magnetic resonance angiography (MRA), computed tomography angiography (CTA), x-ray and echocardiograms provide images of the heart muscle, valves, veins and arteries. Electrocardiogram (ECG or EKG) and transesophogeal echocardiogram (TEE) measure the heart's electrical activity and heart structures, and valves. Portable devices such as a Holter monitor or event recorder measure a patient's heart activity throughout the day, over an extended period of time.
Cardiac catheterization, or coronary angiogram, is a diagnostic cardiology procedure that provides real-time x-ray images (fluoroscopy) to show the heart's pumping ability, the health of the valves and arteries, as well as measure blood pressure. This technique is also used to collect biopsies and blood samples.
Astria Sunnyside Hospital Cardiac Care
To meet the needs of patients throughout the Yakima Valley, Astria Sunnyside Hospital is equipped with state-of-the-art cardiac care technology, has a world-class emergency room, and highly-skilled cardiologists, both located close to where people live and work in the Sunnyside area. Cardiac patients who work during the day or into the evening often are so busy they ignore the warning signs of a heart problem. By having Astria Sunnyside Hospital close by and physicians and staff available and trained to diagnose cardiac problems early to prevent further heart damage and to take care of patients who present during a cardiac emergency, lives are saved.
Fast care for cardiac emergencies
The cardiac cath lab at Astria Sunnyside Hospital is equipped with new and cutting-edge cardiac technology. This technology, combined with skilled cardiologists and cardiac care experts, and experienced emergency medicine physicians, allows Astria Health experts to treat your heart problems within minutes to ensure care is provided immediately.
Astria Sunnyside Hospital has a level 1 cardiac trauma certification indicating its ability to perform lifesaving treatments without delay. Astria Sunnyside Hospital is the only critical access hospital in Washington State to offer elective PCI services.
Vascular Surgery
Astria Health's vascular medicine team has the expertise to provide a full spectrum of care, including:
Advanced diagnostic technology: Heart and vascular specialists utilize advanced imaging technology such as computed tomography angiography (CTA) and magnetic resonance angiography (MRA), or a minimally invasive peripheral angiogram to evaluate and diagnose vascular disease.
Risk-factor management: Diabetes, high blood pressure, obesity and unhealthy habits such as a sedentary lifestyle, smoking and improper diet can contribute to vascular disease. Astria Heart Institute offers educational and preventive-screening services to help promote healthful practices that contribute to heart and vascular health. A multidisciplinary team can provide a treatment program to manage risk factors to minimize the risk of developing or aggravating vascular disease.
Peripheral interventions: Minimally invasive catheter-assisted techniques such as angiogram, angioplasty, atherectomy and stent placement can be used to remove plaque and reopen blocked arteries. Vascular specialists use minimally invasive procedures whenever possible.
Interventional Cardiologists