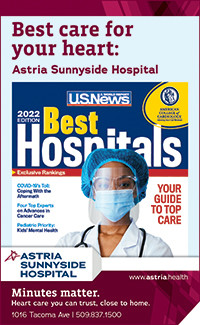 (SUNNYSIDE, Wash., December 28, 2021) – Astria Sunnyside Hospital (ASH) was recently recognized by the American College of Cardiology (ACC) in the U.S. News & World Report's 2022 "Best Hospitals" issue for its commitment to hospital care for heart patients.
According to the ACC announcement, when hospitals receive this type of accreditation and seal of approval, it shows ASH's heart patients and their loved ones that they can trust ASH to deliver the best inpatient care possible.
"I'm proud of our cardiology and CATH Lab teams for their commitment to our patients and I'm pleased that their great efforts are being recognized at a national level," said Brian Gibbons, Astria Health and Astria Sunnyside Hospital, President and Chief Executive Officer.
ASH received this accreditation through the data that the hospital submitted from its catheterization laboratory or CATH Lab where doctors and healthcare professionals perform minimally-invasive tests and procedures to help diagnose and treat heart conditions. ASH submitted data to the National Cardiovascular Data Registry (NCDR®), which is an ACC program that helps track and manage data for hospitals to continuously improve the care provided to their patients.
"Heart disease is the leading cause of death in the United States," said Dr. Antony Kim, ASH Cardiologist. "We ensure patients get the very best heart care, close to home. Our goal is to teach patients to better care for their hearts."
This accreditation helps solidify the hospital's and Astria Health's mission to provide community members greater access to top-notch care, close to home, without the drive to the Tri-Cities or Yakima.
During an interview with Jane Winslow, Astria Health Director of Community Relations, a current patient of Dr. Kim shared her experience of receiving heart care at ASH. Originally from the west side of Washington State, when she moved to the Yakima area five years ago, she struggled to find a cardiologist who would listen to her or put in the effort to treat her complicated health issues.
"After several bad experiences, I was finally referred to Dr. Kim. He treated me more than just another patient," she said. "I couldn't ask for a better cardiologist. Even comparing him to the west side doctors, he's by far the best. I would still only see him, even if I was on the west side of the state."
Over the past year, ASH's heart program has progressed tremendously, providing more opportunities to serve people's immediate heart needs.
"In December 2020, ASH was the first-ever Critical Access Hospital (CAH) in Washington State to receive the right to perform elective percutaneous coronary interventions (PCIs) procedures for our patients in dire need," Gibbons said. "To see the progress that our heart program at ASH has made over the past year is tremendous."
A PCI is a life-saving, non-surgical procedure that opens up blood vessels in the heart that have plaque buildup. Elective PCIs are performed at ASH's Cath Lab. These procedures and others are vital to people who suffer from heart disease or have heart disease in their families.
"Given how serious heart disease is in the United States," said Dr. Kim. "If you have a family history of heart disease, it's very important to establish a relationship with a local cardiologist to best protect your heart health."
Astria Health provides comprehensive outpatient and inpatient cardiology services at their health centers in Sunnyside, Prosser, Toppenish and Union Gap, as well as, provides services at ASH. To learn more about ASH's Heart Health services, please visit https://www.astria.health/services/heart-care.
The Astria Health System, headquartered in the heart of the Yakima Valley, is the parent nonprofit organization of Astria Sunnyside Hospital and Astria Toppenish Hospital along with outpatient Astria Health Centers with healthcare sites and providers conveniently located in towns and cities throughout the region. Specialized in orthopaedics, cardiology, behavioral health and more, Astria Health is Always Here for individuals and families to receive the finest compassionate care, close to home. For more information, please visit: www.astria.health.
###
Posted December 28, 2021